Product details of QUICK TOUCH 5 MINUTES HAIR COLOR – 434 Copper Brown for Permanent Hair Dye Color
Awarded Best Selling Cover Grey Product in Watson's Personal Care Stores in Singapore!
Just 1 Minute Processing Time
Grey hair coverage
Permanent hair color
Easy To Use Only 3-4 Step
Long Lasting Color
Ammonia Free Hair Color
QUICK TOUCH 5-MINUTES HAIR COLOR WILL BE YOUR IDEAL SOLUTION! IT IS AN AMMONIA FREE PRODUCT!
Box dye is commonly used to color your hair at home DIY due to its EASY, AFFORDABLE, AND EXTREMELY CONVENIENT benefits!
While getting VIP treatment at the hair salon can be very pampering, it does come at a hefty price and takes up a long time.
A WAY OF LIFE
Whether it is part of your creative expression or simply to cover gray strands, changing hair color completely refreshes your outlook, boosts your confidence, and improving your self-image.
WHY QUICK TOUCH FIVE MINUTES HAIR COLOR IS FOR YOU?
FIVE MINUTES
Our Quick Touch hair color process only requires FIVE MINUTES for vivid, rich, long-lasting color! Effective AND Efficient, you can DO MORE to conquer your day!
VALUE FOR MONEY
On top of quality lasting results, Quick Touch's cream tube is 25% HIGHER in content than other regular brands.
Quick Touch – 50g x 50g
Other brands – 40g x 40g
HEALTHY & STRONG HAIR
Our innovative ingredients are patented for the hair and scalp protective agents.
Collagen
Strengthens Hair
Reduces Split Ends
Nourishes Hair
Manages Frizzy Hair
Castor Oil
Eliminates Dandruff
Protects Scalp
Aloe Vera
Soothes irritated skin with a cooling effect
Moisturizes and relaxes the skin
Olive Oil
Reduces itchiness
Nourishes & Conditions
Unpacking Your Box Dye
1x Hair Color Cream Tube (50g)
1x Hair Color Cream Developer Tube (50g)
2x Gloves
1x Applicator Comb Brush
How to Use:
Squeeze out the same amount of cream from both tubes onto the brush.
Start to comb mixture on dry hair from the grayest area until full coverage.
Waiting time:

For lighter shades: Less than 1 minute
For optimum color shade: 1 minute
For darker shades: 3-4 minutes. The color will maintain and not get any darker after that.

Rinse thoroughly with water, shampoo, and condition well.
Revitalize your style, show off and stand out – try a new hair color now!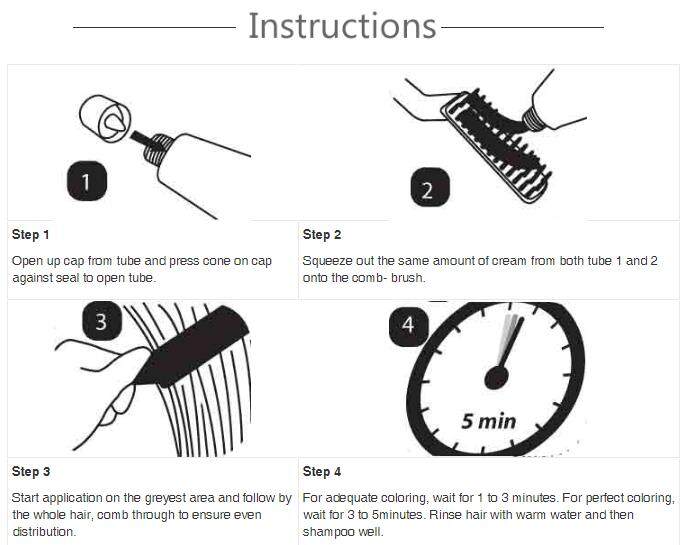 https://www.facebook.com/quicktouch1minhaircolor
More infomation on product promotion discount, events and latest News.
We will always give good value products to our customers.
Specifications of QUICK TOUCH 5 MINUTES HAIR COLOR – 434 copper brown for permanent hair dye color
Brand

Quick Touch

SKU

QU157HBAB5N9LEANMY-90355526

Warranty Type

No Warranty

Volume (ml)

80

Product Form

Cream

Hair Color Type

Permanent

Model

5 MINUTES HAIR COLOR – 434 COPPER BROWN
What's in the box
CONTENTS
Color cream tube No.1……….….40gm
Developer cream tube No.2……40gm
Comb-brush…………..……………..1pc
Pair of Gloves…………………………1pair